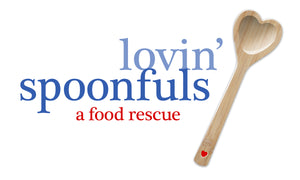 Lovin' Spoonfuls
Lovin' Spoonfuls is dedicated to facilitating the rescue and distribution of healthy, fresh food that would otherwise be discarded. Lovin' Spoonfuls works efficiently to deliver this food directly to the community organizations and resources where it can have the greatest impact. Lovin' Spoonfuls is committed to addressing the health, environmental, and economic impact that food waste has on our community.

The Problem
Today, there are 600,000 Massachusetts residents combating food insecurity on a daily basis, including 200,000 children.
The Solution
Lovin' Spoonfuls works with over 200 local community partners to pick up excess food from grocery stores, farms, and wholesalers and deliver those items to local shelters, food pantries and crisis centers within the same day, ensuring that the food we deliver matches the needs of our partners and is safe for consumption. We also partner with the Greater Boston Food Bank under an MOU which focuses on data sharing, efficient utilization of resources, and food recovery support, in order to rescue more food and feed more people.
Planned Use Of Funds
Currently, it costs Lovin' Spoonfuls $140,000 each year to put a truck on the road, which includes salaries and benefits for staff as well as all of the automobile expenses such as gas, lease payments, insurance, and maintenance. Each truck is responsible for rescuing and distributing more than 450,000 pounds of food each year - the collective equivalent of 1,200 metric tons of avoided CO2 emissions.
Geographic Focus
Why this project?
40% of food produced in the United States is wasted every year, occupying landfills and not reaching those in need. Lovin' Spoonfuls is bridging the gap between abundance and need, creating an innovative, local solution for the ongoing problems of food insecurity and food waste.
Stage of Development
Early Stage
Established Prototype
Scaling
Other
Track Record/Evidence
The goals for Lovin' Spoonfuls are to divert food from landfills, to bring it to those in need, and to raise awareness about food waste and food recovery. By doing so, we strive to improve access to fresh food for those we serve. Since our founding in 2010, we have successfully rescued and distributed more than ten million pounds of food and we now serve 30,000 people each week. In addition, we solicit and receive qualitative feedback from our partners through surveys, site visits, and check-in calls, which provide demographic data on the populations we serve as well as feedback...