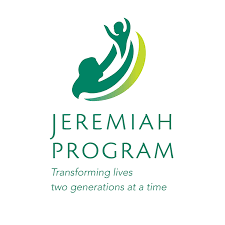 Jeremiah Program
Jeremiah Program partners with low income single mothers and their children to break the cycle of poverty, two generations at a time.
The Problem
Low-income single moms are navigating a system that is often stacked against them. The costs associated with single parenting--childcare, housing, health care, food, and more--contribute to the economic insecurity and instability of single mothers and directly impact their ability to get ahead. In fact, among Boston families with children under age five, single moms are ten times more likely to live in poverty than married couples (44%, compared to 4%). Black and Latina single mothers in Boston, like the majority of women we serve, are two and three times, respectively, more likely to live in poverty than white single mothers.
The Solution
By graduation, Jeremiah Program mothers earn post-secondary degrees; gain placement in first-time career-track jobs; increase their earnings; build their confidence and sense of belonging; strengthen their networks for sustained stability and community participation; and increase their access to safe and affordable housing. In addition, Jeremiah fosters educational achievements among their children, beginning with kindergarten-readiness and leading to high school graduation and college. Jeremiah Program Boston's place-based service model leverages existing community assets, while allowing Jeremiah to bring our unique expertise on empowering permanent family transformation through two-generation programming. By delivering programming in collaboration with community partners, we promote learning across sectors to make programming and interventions inclusive and effective for single mothers. 
Planned Use Of Funds
We were recently awarded a $200,000 multi-year grant from Wellington Management Foundation to seed this growth, and are seeking investments from like-minded funders to invest in our vision to end the cycle of poverty, two generations at a time. Jeremiah Program Boston staff and the local Community Board of Trustees are responsible for raising all of the funds to support our local program in Boston, which we raise through individual, foundation, corporation, and special event contributions. We are also working hard to build local reserves as we grow. However, in the unanticipated event of a revenue gap, national reserves are available to ensure the continuity of our critical services for families.
Geographic Focus
Why this project?
Too often, solutions to address intergenerational poverty among low income families focus on only one intervention at a time without considering how families' success is inextricably linked. Jeremiah Program uniquely works with both generations to help mothers and children climb the socioeconomic ladder together through holistic support.
Stage of Development
Early Stage
Established Prototype
Scaling
Other
Track Record/Evidence
Given that 100% of Jeremiah Boston families represent communities of color, it is critical that we apply a racial equity lens to all our work. Our Diversity and Inclusion Plan guides efforts to address racism and drive equity among our families, employees, and volunteers. We to strive to make diversity inclusion a central focus in our Boston Program by building a diverse board and staff that reflects the many identities of the families we serve. Among our staff of four, 100% are women, 75% (3) are women of color and single mothers, and one is a Jeremiah Program mom.