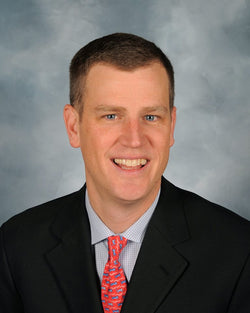 President & CEO, Boston Red Sox
Sam Kennedy is in his 17th season with the club and his second as President and Chief Executive Officer, a position to which he was elevated in August 2017 after having spent the 2015 and 2016 seasons as Club President. In addition to his role with the Red Sox, Kennedy also acts as President and Chief Executive of Fenway Sports Management, a sports marketing and sales agency that is a sister company to the Red Sox under the Fenway Sports Group family.
A native of Brookline, MA, who grew up within walking distance of Fenway Park, Kennedy, 45, joined the Red Sox in 2002 after 6 years working for the San Diego Padres from 1996 – 2001.
Since joining the Red Sox, Kennedy has played a key role in the dramatic growth of the Red Sox brand. Recalling the days that he was able to come into the ballpark on his dad's clergy pass, Kennedy's particular focus the past few years has been on encouraging kids to come to the ballpark to experience Fenway Park through the creation of a "Kids Only" Gate K and a free ticket for all kids that sign up for Red Sox Kid Nation. Outside of the 81 days a year of baseball, Kennedy has also been instrumental in the transformation of Fenway Park into a year round venue, including concerts, hockey, soccer, football and even a "Big Air" skiing and snowboarding competition requiring construction of a 150 foot high ramp from centerfield to home plate.
In 2004, Kennedy helped create Fenway Sports Management and has overseen its growth from that of a start-up to a world class sports marketing agency with an international roster of clients that includes not only sister companies the Red Sox, LFC, NESN and Roush Fenway Racing, but also partnerships with Boston College, Major League Baseball Advanced Media, the Dell Technologies Championship, and a landmark marketing partnership with NBA superstar Lebron James.
Kennedy has received many recognitions during his time with the Red Sox, including Boston Business Journal's 40 under 40 Award and his induction into the Sports Business Journal's 40 under 40 Hall of Fame which includes multiple time recipients of the honor. This national honor placed him in the company of the most influential and creative young professionals in the business of sports.
Kennedy is active in the community and serves on the MLB International Committee and MLB Ticketing Committee as well as the BIDMC Trustee/Advisory Board and Marketing Committee; the Trinity College Board of Fellows; Dana-Farber's Visiting Committee for Institute Initiatives; The BASE's Advisory Committee; and Camp Harbor View Board of Directors.
A former captain of the baseball team at Brookline High with friend and classmate Theo Epstein, Kennedy graduated from Trinity College (CT) in 1995. Kennedy and his wife of 20 years, Amanda, reside in the Boston area with their 15-year-old son, Jimmy, and 13-year-old daughter, Ally.