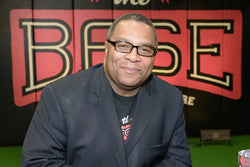 Founder & President, The BASE
Robert Lewis, Jr. is a nationally recognized thought leader, public speaker and passionate advocate for urban youth.  Known as a bridge-builder and catalyst for collaboration between diverse business, civic and public sectors, Robert has deep experience with grassroots, community-based organizations throughout Greater Boston and government entities, colleges, sports franchises and philanthropic foundations throughout the country.  A 2015 Boston Magazine cover story listed Robert among the city's 50 Most Powerful Leaders, calling him "a tireless advocate for inner-city kids."
Robert's impressive career trajectory has included important roles such as Executive Director of the Boston Centers for Youth and Families, President and Executive Director of the National Conference for Community and Justice (NCCJ), Senior Vice President of City Year's national operations and Executive Director of City Year Boston, and Vice President for Program at the Boston Foundation where he directed the distribution of $16 million+ in discretionary grants.
He was the chief architect of two important initiatives during his tenure at the Boston Foundation:  StreetSafe Boston – the country's only privately-funded ($15m) gang program with a mission to dramatically reduce gun violence in the city; and CHAMPS Boston – which promotes positive youth development through sports by training over 5,000 youth sports coaches in Greater Boston.
In 2013, Robert left his high profile position at The Boston Foundation to pursue a lifelong dream to launch The BASE. The BASE is a model and methodology that changes the paradigm for urban youth by providing student athletes with the opportunity, knowledge, skills and confidence needed to develop a winning game plan for success both on and off the field.  The BASE embodies everything Robert learned as founder of the Boston Astros, a youth baseball team he launched in 1978. Legendary baseball writer Peter Gammons has called The Astros, "Hands-down the best urban baseball program in the country," and Triple Crown Sports awarded the Astros the 2012 "Team of the Year" award from a field of 40,000.
Robert is a highly sought-after public speaker, facilitator and spokesperson on the topic of urban issues and opportunities, addressing attendees at major national conferences and inspiring students and faculty on college campuses across the country.  He has worked collaboratively with government and civic leaders in Los Angeles, New Orleans, Chicago, New York, Philadelphia and Pittsburgh, and currently consults with a number of foundations and non-profits including California Wellness Foundation, Delaware Valley Grantmakers, and the Stoneleigh Foundation, offering leadership, critical and strategic thinking on urban youth development.  Robert also worked with the Minister of Defense in Bermuda to launch StreetStafe Bermuda, and advised Prime Minister David Cameron during the tumultuous riots in the United Kingdom in 2011.
Among his many awards and distinctions are the 2015 Sports Museum's Lifetime Achievement Award at the Boston Baseball Writer's Annual Dinner, and an honorary doctor of humane letters degree from Cambridge (MA) College.  In addition, Robert served on MA Governor-elect Charlie Baker's transition team, helping develop Baker's statewide urban agenda.
Robert has been profiled in 4 books:  Developing Better Athletes, Better People, A Leader's Guide To Transforming High School and Youth Sports into a Development Zone, authored by Jim Thompson, Do More Than Give, the 6 Practices of Donors Who Change the World, by Leslie Crutchfield, John Kania and Mark Kramer, 10 Who Mentor, by Denise Korn, Men Who Dare, authored by the late Katherine Martin.