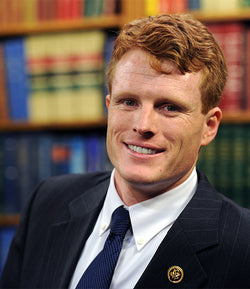 United States Congressman, 4th District MA
Joe Kennedy III is proud to serve the Fourth District of Massachusetts in Congress. Currently in his third term, he represents a diverse district that stretches from the suburbs of Boston to the more industrial cities of Massachusetts' South Coast.
As a member of the influential House Energy & Commerce Committee, Joe has crafted a legislative agenda driven by the needs of his constituents. With a focus on issues like mental health and addiction, energy costs, manufacturing and STEM education, he has prioritized bipartisan reforms that directly impact the families, businesses and communities he is honored to represent.
His efforts to strengthen mental health parity laws, increase Medicaid reimbursement rates for behavioral health providers, and ensure the federal government invests in the entire continuum of care have made him an emerging leader on mental health and substance use disorders issues in Congress.
Inspired by the rich manufacturing tradition of the 4th Congressional District and the modern economic challenges many of his communities face, Joe has been a vocal advocate for Science, Technology, Engineering, and Mathematics (STEM) education, vocational schools and community colleges since he arrived in Washington. His Perkins Modernization Act and STEM Gateways Act, which focus on expanding educational opportunity to middle and working-class students, both passed the House in 2016 with broad bipartisan support.
Additionally, his Revitalize American Manufacturing and Innovation Act (RAMI) was signed into law by President Obama in 2014. The bipartisan legislation supports a network of domestic manufacturing centers aimed at fueling new technologies and educating a next-generation workforce.