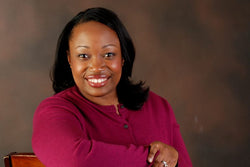 Vice President, Director of Corporate Citizenship and Diversity, MFS
Colleen Richards Powell oversees MFS' diversity strategy, including related leadership training,
strategic partnerships, education, employee benefits and talent management. She also directs the
firm's Corporate Citizenship program, including philanthropic partnerships, events and employee
volunteering.
Prior to joining MFS, Colleen was the chief external relations and communications officer for the
Massachusetts Convention Center Authority, where she created and led the authority's corporate
social responsibility program. Previously, she served as deputy director of Commonwealth
Compact, an organization committed to increasing diversity in the Massachusetts business
community, and spent several years as special assistant to the president of Harvard University.
She began her career by serving on the Capitol Hill staff of Senator Edward M. Kennedy, where
she worked on policy concerning education, children and low‐income policy.
Colleen earned a bachelor's degree from Wellesley College and a master's degree from Harvard
University.
She is a board member of the Overseers of Beth Israel Deaconess Medical Center, as well as a
member of the Wellesley College Business Leadership Council and Bentley University's Dean's
Advisory Council for Arts and Sciences. She also serves on the Leadership Council of the Posse
Foundation, the Cradles to Crayons Corporate Advisory Council, the Philanthropic Advisory
Council for Healthcare for the Homeless, and the executive council of Partnership Inc. She is a
former trustee of Wellesley College and former board member of the Rose Kennedy Greenway
Conservancy and served two terms as a trustee of Bunker Hill Community College.