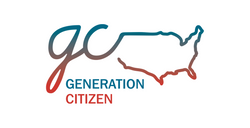 Website: https://generationcitizen.org/
Mission: Generation Citizen works to ensure that every student in the United States receives an effective Action Civics education, providing them with the knowledge and skills necessary to participate in our democracy as active citizens. We envision a country of young people working as active, effective citizens to collectively strengthen our American democracy.
RELEVANCE
How does your organization strive toward the attributes associated with Relevance?
Generation Citizen (GC) works to ensure that every student in the United States receives an effective Action Civics education, a student-centered, experiential approach in which young people learn about the civic process by taking action to address issues in their communities. We prioritize service to low-income communities in order to address the 'Civic Engagement Gap,' a disparity in educational opportunity that disproportionately disadvantages how young people in these communities are prepared for a lifetime of civic participation and leadership. GC believes deeply in the importance of young people at the forefront of change, and our work ensures that youth from low-income communities have a chance to develop the knowledge, skills and motivation to do so. Given this value, we are committed to including stakeholders in our organizational decision-making at all levels, up to the national strategic input provided by our Student and Teacher Leadership Boards. As an organization that works to strengthen local democracy, we develop close relationships with political, nonprofit, and business leaders in the communities we serve across the Commonwealth. Our evaluation data shows the success of this community-building: 73% of students, 78% of teachers, and 80% of volunteers would recommend the GC program to a peer. These numbers are particularly notable because GC's programming is incorporated into real classes that reach all students across partner schools, not optional activities or extracurriculars targeting only those who already have a passion for civic engagement.
IMPACT
How does your organization strive toward the attributes associated with Impact?
Academics and experts in the field agree upon three indicators which best predict a student's likelihood of future civic engagement: civic knowledge (including how the governmental process works, the branches of government, and the basic political players), civic skills (skills enabling political participation including communication, collaboration, and the ability to persist in solving complex problems), and civic disposition (desire to actively participate in the political process and take action on issues they care about). As such, our measurement and evaluation of our impact centers around these three indicators, and we consistently demonstrate that students in the GC program show growth across all three indicators.
In the 2017-18 school year, some highlights of measurable successes include:
76% of students gained civic knowledge over the course of the program

.

71% of students increased their civic skills over the course of the program,

 

such as speaking in public and getting others to care about a problem.

70% of GC students believed they have power to make a difference in their communities by the end of the semester

.  There was also a 49% increase in their likelihood of running for public office and a 47% increase in the likelihood students would contact their public officials in the future.  

Many young people engage in certain civic behaviors for the first time as a part of their participation in GC

, with a 175% increase in the number of students who had ever contacted a public official and a 135% increase in the number of students who had ever written an article or op-ed.
SUSTAINABILITY
How does your organization strive toward the attributes associated with Sustainability?
GC has experienced a growth in revenue every year since our founding. GC's current national operating budget is $4,966,492 and its MA site budget is $583,409 (Fiscal Year 2019: July 1, 2018 – June 30, 2019).  GC ensures financial stability by pursuing a diversity of revenue sources, and by leveraging national development staff to support Executive Directors in raising their full budgets locally. In FY19, the MA site will raise its budget from foundations (29% of revenue), corporations (40%), individual donors (12%), earned income from fee-for-service relationships with schools (13%) and government funding (6%). The site has maintained financial strength despite rapid growth, thanks in part to the generous support of a 3-year Catalyst grant from the Wellington Management Foundation which funded the creation of a Development Manager position to ensure financial stability. GC's fundraising is also supported by our local Advisory Board and Associate Board, who together are expected to support fundraising for 25% of the FY19 budget.
EXCELLENCE IN MANAGEMENT AND OPERATIONS
How does your organization strive toward the attributes associated with Excellence in Management and Operations?
GC strives to embody the core organizational value of Diversity and Collaboration, and has worked to institutionalize this through systems such as the staff Diversity, Equity and Inclusion Steering Committee. Our ability to collaborate and invite input from a broad range of stakeholders has enabled our successful expansion. This year, the MA site is on track to grow to serve over 6,000 students across 240 classrooms, an increase of over 50% from the previous school year. We are also prepared to continue to scale dramatically– as leaders of the MA Coalition for Civic Learning, we are proud to have successfully advocated for a law signed just last week requiring Action Civics education in all schools statewide. This growth is supported by a highly collaborative team of 7 staff– an Executive Director, Program Director, Development Manager, two Program Managers, Program Associate and AmeriCorps VISTA– as well as an active Advisory Board and Associate Board of young professionals.
HOW DOES YOUR ORGANIZATION ENGAGE YOUNG PROFESSIONALS / EMERGING LEADERS?
The MA site boasts a highly engaged Associate Board of young professionals, which serves as a non-governing body to support fundraising, guide decision-making, and elevate the organization's local profile. For example, the Associate Board leads our annual GC Trivia Night to introduce a broader range of young professionals to GC's mission through a team-building and fundraising event. We are actively working to broaden and diversify membership in our Associate Board.
In addition, we are grateful to the emerging leaders who attend our bi-annual Civics Day events, end-of-semester celebrations where student representatives from GC classrooms present their Action Civics projects at the State House to political, civic, and business leaders. By serving as Volunteer Judges, young professionals are uniquely able to leverage their near-peer role with the middle and high schools to act as role models and champions encouraging their civic engagement.