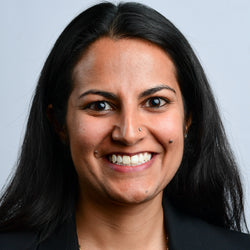 Sonya Bhabhalia is the executive assistant at the Learning by Giving Foundation and is passionate about community, philanthropy, and her Fenway neighborhood.
She has spent 10+ years in the nonprofit sector in Boston and first got a taste of social impact work through a service-learning program while an undergraduate at Boston College. During her time as a prospect researcher, she also earned her master's in law and public policy from Northeastern and uses her experiences to inform her service on two nonprofit boards.
When she's not bouncing around the city, she can be found in a grocery store or her kitchen with a sporting event on TV.